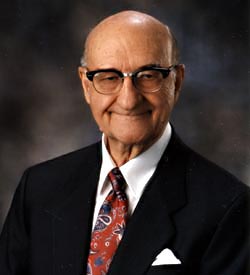 February 17, 2006 by Earl Taylor
On Monday, January 9th, 2006 at 1:50 in the afternoon, our good friend and founder of NCCS, W. Cleon Skousen, passed away peacefully at his home. In just 11 days from then, he would have turned 93 years old.
How does one write about the life of such an accomplished and beloved man? We present below an edited transcript of the eulogy delivered by Dr. Skousen's son, Eric, at his funeral service on January 14, 2006.
Dr. W. Cleon Skousen was born on a kitchen table in a small home in Raymond, Alberta, Canada on the night of January 20, 1913. His first name is Willard, after his paternal grandfather, but his mother called him Cleon which means "one to take the place of" as his parents had lost their first child, a boy named Ezra, the preceding year. (more…)